The 5-Step SEO Checklist To Sell Your 6-Figure Website For Maximum Profits | Affiliate World Conferences02:18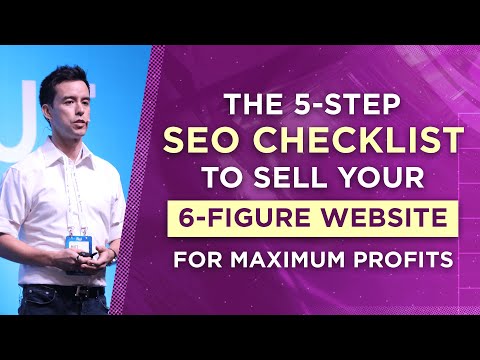 Affiliate World Conferences
Topics
Preparing a website for sale
Maximizing profit from website sale
Identifying the best time to sell
Video summary
The video discusses the process of preparing a website for sale and maximizing profit from the sale. It advises slowing down on link building and focusing on cheap outreach links, removing oneself from the website's operations, queuing up content for the new buyer, utilizing email lists to boost profit, and identifying the best time to sell using Google Trends and a sales price prediction table.
Dig Deeper
Maximizing the Profit of Your Website: Tips for Flipping
If you've spent time building a website and are considering selling it, there are certain things you should be doing to get the maximum profit from it. Here are some tips:


Streamline Your SOP: Make sure that your standard operating procedure (SOP) is clear and concise, so that the new buyer knows what needs to be done with the website going forward. This will make the sale more attractive to potential investors.


Queue up Content: Preparing content for the next six months will help you show the buyer that they don't need to touch the site for at least half a year after buying it. This takes pressure off the buyer and improves your chances of making a sale.


Slow Down on the Link Building: Focusing on cheap outreach links can still improve the site's visibility without drastically increasing the investment required.


Use Your Email List: Sending out emails to your list can help you get a little bit more profit, and build the site's reputation in the eyes of the potential buyers.


Sell at the Right Time: Make sure you use tools like Google Trends to understand how long your site has before it goes out of style. Selling before it loses popularity can make a significant difference to your final price.


Predict Your Future Sales Price: If you want to understand your sales price potential, you can create a table based on your last 12 months' profit and multiply it by a multiplier to determine what price you might get if you keep going at the same rate.


Impact on the Affiliate Marketing Industry:
This approach to site flipping will have a positive impact on the affiliate marketing industry. It demonstrates that websites can provide long-term value and that buyers who invest their money wisely can profit from them. This, in turn, will encourage others to invest in affiliate sites, pumping more money into the industry and increasing opportunities for growth and expansion.
Empower Your Affiliate Marketing Success with Post Affiliate Pro
As an affiliate marketing platform, we at Post Affiliate Pro are dedicated to helping businesses succeed in driving traffic and maximizing conversions. Our expertise lies in providing the tools and resources to optimize your affiliate programs and boost your online sales. With a deep understanding of the importance of effective SEO strategies, we are committed to helping you achieve maximum profits for your website.
Transform your website into a high-performing asset by leveraging our comprehensive suite of features. With advanced tracking and reporting capabilities, you can gain valuable insights into your affiliate campaigns, allowing you to make data-driven decisions and optimize your performance. Our user-friendly interface ensures a seamless experience, enabling you to manage your affiliates, track conversions, and analyze results effortlessly.
At Post Affiliate Pro, we empower you to unlock the full potential of your affiliate marketing efforts. Whether you're a seasoned affiliate marketer or just starting out, our platform offers the scalability and flexibility to meet your business needs. From customizable commission structures to powerful integrations, we provide the tools to supercharge your affiliate program and drive revenue growth.