It's the end of the web as we know it. Main reason? Advertising. We have already reached the point of no return. Banners or pop-up ads became too aggressive and users responded with advertiser's worst nightmare – Ad Blockers.
"While it is not evident that it is costing jobs today, we believe that in the future advertisement blocking could be a seismic event within the digital media ecosystem and if left unchecked could drive quite a few publishers out of business," said Ben Barokas, CEO of Sourcepoint, an anti-ad blocking software vendor in interview for Tom's Hardware.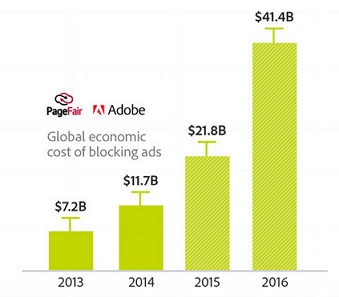 We at QualityUnit refused to settle down. Today we are cancelling the apocalypse. Your pimped up affiliate program can work as good as ever. We are adding specific feature, which will prevent Ad Blockers to kill your banners.
How To Turn On Ad Blocker Prevention?
It's just a question of a few clicks. Follow this path: Go to your Merchant panel > Tools > Integration > Clicks tracking and right there you'll see special tick box for our new feature.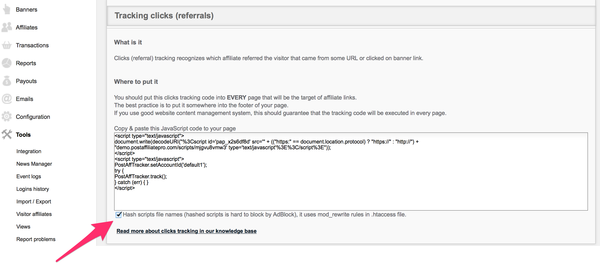 You can find this new functionality in Sales/Lead Tracking menu. Follow this path: Go to your Merchant panel > Tools > Integration > Sales/Leads Tracking and right there you'll see special tick box for our new feature as well.

Also, Adobe – creator of legendary Flash – is here to finish what the first iPhone started. Even Steve Jobs shared his thoughts about flash.This platform is dead and we all have to live with it. Please note, that we are not implying that Flash plugin for browsers is ready to be buried six feet under. That will continue to exist.
The End Of Flash Cookie Tracking
"For nearly two decades, Flash Professional has been the standard for producing rich animations on the web. Because of the emergence of HTML5 and demand for animations that leverage web standards, we completely rewrote the tool over the past few years to incorporate native HTML5 Canvas and WebGL support.
To more accurately represent its position as the premier animation tool for the web and beyond, Flash Professional will be renamed Adobe Animate CC, starting with the next release in early 2016."
We have to go with the flow and so we decided to kill the feature of Post Affiliate Pro that is destined to become obsolete. So long Flash Cookies. With new release, they are no longer supported. HTML5 won this war of standards.
Go ahead and request your Post Affiliate Pro update today. In case of self-hosted accounts, please go to yourmembers areaand download a new version from there. Customers who are running Post Affiliate Pro on our servers will be updated automatically or can request an immediate update via our support.
Just drop us an email at support@qualityunit.com. Enjoy using the newest version of Post Affiliate Pro available from today!