Hello and welcome back, our cherished users of Post Affiliate Pro! August was a whirlwind of innovation. Beyond just updating, we aimed at enhancing, refining, and perfecting. Let's dive into why each tweak and turn is a step closer to your perfect affiliate experience:
Good-bye, 'offset'!
We've bade farewell to the 'offset' parameter in the API grid requests. This streamlining ensures a more consistent API behavior and reduces complexities, making it easier for developers and users alike.
Effortless refund handling
With intuitive changes to Shopify and PayPal integrations, managing finances is clearer and more straightforward. Tracked refunds will now directly change the original commission's status to 'declined' rather than creating a new negative commission of the refund type. This means fewer commission records and better clarity for your reports.
Quicker payments, happier merchants
By moving the "pay affiliate" process backstage and removing the loading screens, we're ensuring less waiting and more doing. This translates to happier merchants and a smoother payout experience.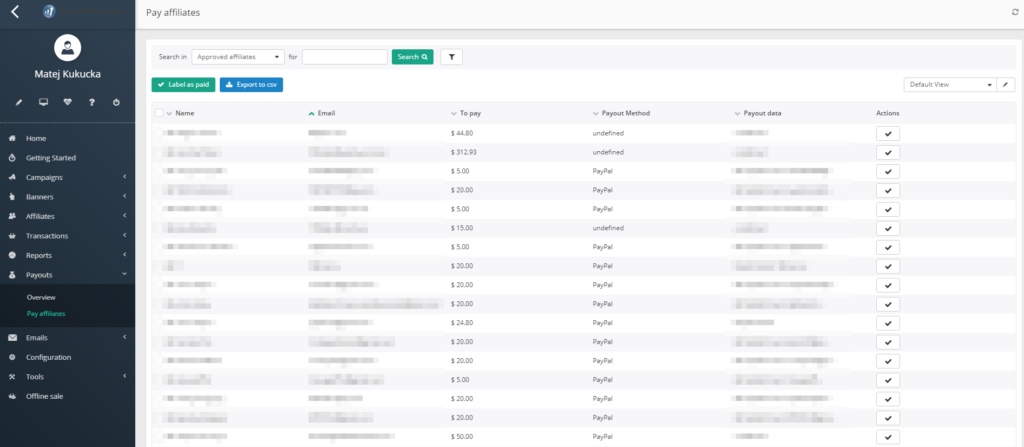 Hide campaigns plugin – The New Kids On The Block
We added an option to assign sales tracked for a hidden campaign to the default affiliate, as well as an option to skip lifetime referral creation for hidden campaigns. These new options empower you with greater flexibility. Tailoring your campaigns becomes a breeze, ensuring they align better with your marketing strategies.
Strengthening our fortress
With the elimination of a potential XSS vulnerability, you can now interact with greater peace of mind. Safety is paramount, and this improvement ensures you operate in a more secure environment.
Smarter tracking debugging
By setting the "PDebug" URL parameter to a default 'off', we're reducing unwanted noise. But its on-demand accessibility ensures that when you need insights, they're just a click away.
Peek at the visitor ID for affiliates
Now, you can enable the Visitor ID column for the commission list of the Affiliate panel. By introducing this column, we're offering you sharper insights. With immediate updates on stopped campaigns, you're never in the dark, making strategy adjustments more proactive. Understanding your audience is a step closer to crafting more successful campaigns.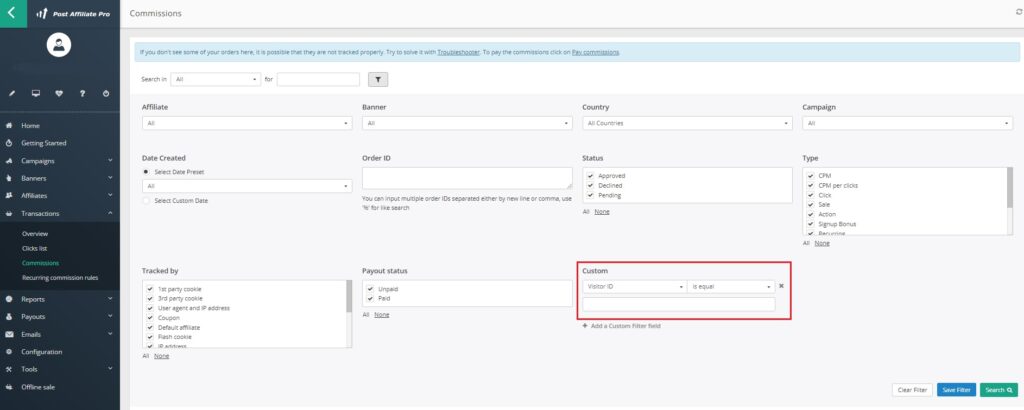 Tidying up the Shopify plugin
Refining the order ID setting logic means smoother integrations. This ensures that your sales processes remain optimized and uninterrupted.
On top of that, we've revamped reset process so it's all about clarity. With reset and reset confirmation checkboxes that no longer remain checked after a successful reset, you have one less thing to worry about.
Embracing change means embracing growth. Each update, no matter how minor, has been handcrafted keeping you, our esteemed user, at the heart of it all. We're more than just a software; we're a companion on your journey to affiliate marketing success.
Cheers to bigger dreams and even bigger achievements! Stay tuned for further updates, and thanks for being here with us.
Don't have Post Affiliate Pro yet?
Try our 30-day free trial right now and explore all the various features our affiliate management software offers.
Try today