What is an opt in?
Opt-in is an explicit consent procedure from the permission marketing, in which the end user makes advertising contact recordings – usually by e-mail, telephone or SMS – that must be confirmed explicitly. Its contrast is an opt-out procedure, which in many cases is legally inadmissible.
Prior to non-addressed advertising, consumers can protect themselves by notifying them of their mailbox ("no advertising"), which email, and other advertising distributors must observe. There is also the possibility for consumers to register themselves on the Robinson list.
How to Make an Opt-In Form for Your Email Marketing | The Journey | GoDaddy04:50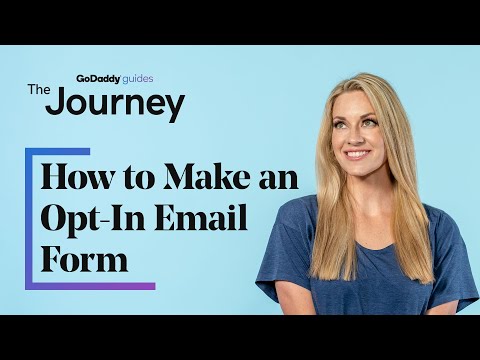 GoDaddy
Topics
Importance of opt-in forms
Placement of opt-in forms
Avoiding buying email lists
Video summary
This video discusses the importance of an opt-in form for businesses. It explains that an opt-in form allows businesses to control their audience and what they send to them through email. The video suggests placing opt-in forms on websites, social media profiles, and other links. It emphasizes the importance of not buying email lists, but instead, giving readers the opportunity to sign up. The video also mentions using opt-in incentives, such as freebies or checklists, to encourage sign-ups. Additionally, it advises businesses to create eye-catching subject lines and relevant content for their email subscribers. The video concludes by highlighting the opportunity to convert email subscribers into paying customers and stressing the importance of starting to build an email list early, even before launching a product.
Frequently Asked Questions
Is opt-in required for email marketing?

Opt-in requirements vary depending on location. Opt-in is mandatory in Europe and Canada, but it is not in the United States.

How does email opt-in work?

When a user visits a website and subscribes to receive email communications from the website, this is called email opt-in.