What is a keyword density?
Keyword density is the measure that expresses percentage of indexable text words. It can be calculated as a ratio between the number of how many times the keyword appears and the total number of words shown on the certain web page.
For example, if a keyword appears 4 times on the webpage with 100 text words, the keyword density is 4 %. This measure should be high enough, but not too much. The higher percentage indicates search engine spam and pages can be penalized for keyword stuffing.
What is Keyword Density? What is a Good Keyword Density for SEO? | Surfside PPC07:32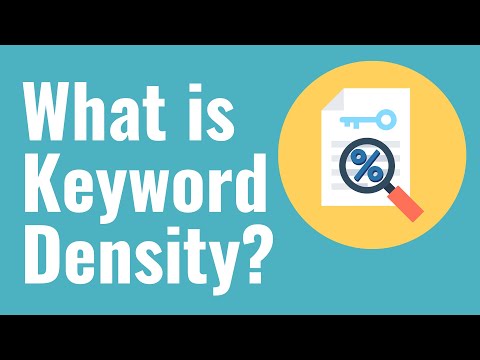 Surfside PPC
Topics
keyword density
search engine optimization
keyword stuffing
Video summary
The video discusses keyword density, which is the percentage of times a keyword is used on a web page. Keyword density is used by search engines to determine the relevance of a web page to a specific search term. It is important to use keywords naturally and avoid keyword stuffing. The recommended keyword density is below three percent, with many high-ranking pages having a density between 0.5 percent to 1.5 percent. It is also advised to use related phrases and synonyms for the keyword. The video emphasizes the importance of writing natural content and using the keyword in the title, meta description, first paragraph, image alt tags, and some subheadings.
Frequently Asked Questions
Is there an optimal keyword density?

It depends on a number of factors, including the specific industry and the overall competitiveness of the keyword. As a general rule, a keyword density of around 2-5% is considered optimal.

How important is keyword density for SEO?

Keyword density is not very important for SEO because modern search engine algorithms no longer rely on it in order to understand what a site is about.

What is the ideal keyword density?

There is no ideal keyword density because modern search engine algorithms no longer rely on them for SERP scores.