What is e-commerce?
E-commerce, also known as electronic commerce, is a way of selling and buying products or services online through the Internet. E-commerce is also a way of sending data and information. There are many applications, such as email, shopping carts or online catalogs, which are used for e-commerce.
There exist many types of e-commerce, such as B2B (business to business), B2C (business to customer), C2B (customer to business) and C2C (customer to customer). It expresses who is dealing with who. For example, in B2C type, a company sells products or services to the public through the internet.
E-commerce brings many benefits to company and customers. Benefits such as speed of access and transaction, good accessibility, large availability of goods and services, and much more.
What is eCommerce? (Explanation for beginners) | Robert - TipsWithPunch07:04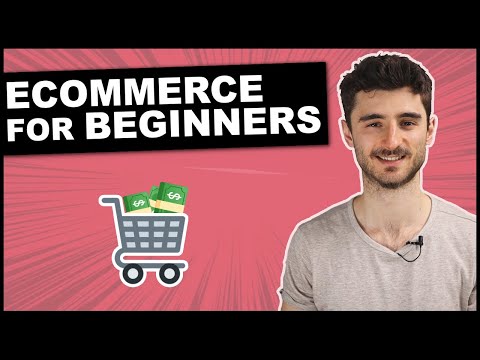 Robert - TipsWithPunch
Topics
E-commerce basics
Starting an e-commerce store
Platforms for selling
Driving traffic to your website
Video summary
E-commerce refers to buying and selling products online. It offers advantages such as flexibility, scalability, and the ability to sell to anyone, anywhere. To start an e-commerce store, you need a product or service to sell, a platform to sell it on, and a strategy to drive traffic to your website. You can create your own store using platforms like Shopify or Bigcommerce, or sell on marketplaces like Amazon. To attract customers, you can advertise on social media, optimize your website for search engines, build an email list, or collaborate with influencers. It's important to choose the right platform and marketing strategies for your business.
Frequently Asked Questions
How does e-commerce work?

E-commerce is the process of buying and selling goods and services over the internet. Businesses can sell their products and services online through a variety of platforms, including their own websites, online marketplaces, and social media.

What are the advantages and disadvantages of e-commerce?

Some advantages of e-commerce include convenience, speed, and a wider selection. Some disadvantages of e-commerce include potential security risks and a lack of customer service.

What are the four types of e-commerce?

The four types of e-commerce are business-to-business (B2B), business-to-consumer (B2C), consumer-to-consumer (C2C), and consumer-to-business (C2B).