What is content types?
Content type determines how text is organized and shown. Each type has patterned and standardized structure. It has its own specific characteristics and different functions. Press release, blog or an article are types of written content.
The press release is used to remind and highlight a special event or important information. The article is describing and informing about something. Blog collects many short posts. Building a blog can be a way to do affiliate marketing at zero cost.
3 Types of Content That Create VALUE For Your Audience! | Annie Dubé09:05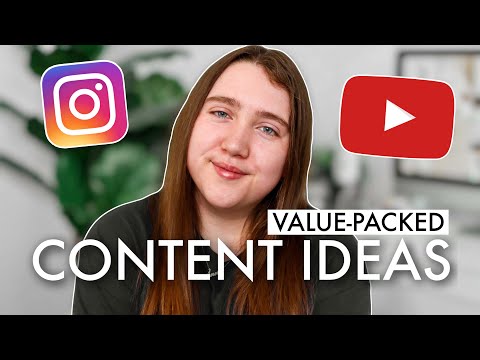 Annie Dubé
Types of content in affiliate marketing
In the realm of affiliate marketing, content serves as a powerful toolkit to engage audiences, promote products or services, and drive successful conversions. Affiliate marketers leverage various types of content to connect with their target audience and provide valuable information that encourages users to make informed purchasing decisions. Some key types of content commonly used in affiliate marketing include:
Product reviews: In-depth and honest reviews of products or services help users understand their features, benefits, and potential drawbacks. Well-crafted product reviews build trust and credibility, guiding readers towards making a confident purchase through affiliate links.
Tutorials and how to guides: Step by step tutorials and instructional guides offer valuable insights into using products effectively. By showcasing practical applications, affiliate marketers can demonstrate the value of products and establish themselves as reliable authorities in their niche.
Comparison content: Comparing multiple products or services allows users to make informed choices based on their needs and preferences. Comparison articles or videos highlight the strengths and weaknesses of different options, guiding readers towards the best fit for their requirements.
Expert interviews: Interviews with industry experts or product creators add authenticity and authority to affiliate content. Insights from experts can strengthen the case for promoting certain products, increasing the likelihood of conversions.
Promotional offers and coupons: Sharing exclusive deals, discounts, and coupons creates a sense of urgency and excitement among users. Promotional content drives users to take advantage of limited-time offers, leading to higher conversions.
Personal stories and testimonials: Authentic and relatable personal stories or testimonials create an emotional connection with the audience. They showcase real-life experiences with products, instilling confidence in potential buyers.
Video content: Videos offer a dynamic and engaging way to present affiliate content. Whether through product demonstrations, unboxing videos, or informative reviews, video content helps captivate audiences and boost conversions.
By diversifying their content strategies and using a mix of these content types, affiliate marketers can cater to various audience preferences and needs. The key to success lies in providing valuable, informative, and engaging content that aligns with the interests and aspirations of the target audience. Through strategic content creation and promotion, affiliate marketers can unlock the full potential of their affiliate partnerships and achieve remarkable success in the ever-evolving world of affiliate marketing.
Frequently Asked Questions
What are the different content types?

There are many different content types such as press releases, articles, and blogs.

Why are content types important?

Content types are important because they help to structure content for a specific purpose. This lets the reader know what kind of content to expect.