One Big Reason Why You Need to Think Long Term in Your Affiliate Marketing Business | Affiliate World Conferences01:25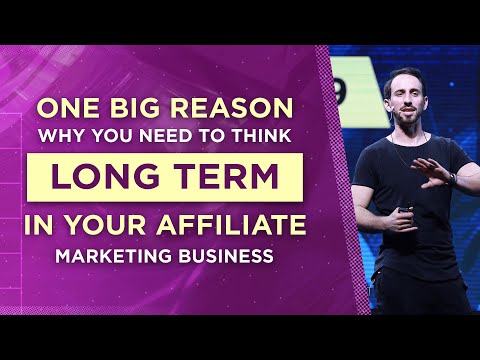 Affiliate World Conferences
Topics
Taking Responsibility
Long-Term Goals
Finding Purpose
Video summary
The video encourages taking responsibility for one's actions and making long-lasting changes rather than just seeking wealth and fame. The speaker cites Jim Carrey's quote about the relative nature of money and urges the audience to anchor themselves to a greater purpose. The message is to seek a legacy through meaningful and impactful work.
Dig Deeper
The Responsibility of a Marketing Specialist
As a marketing specialist, you have the power to reach thousands, even millions of people on a daily, weekly, or monthly basis. With such a significant responsibility, it is essential to focus on long-term goals rather than short-term gains. Jim Carrey's quote about the fleeting nature of riches and fame offers an important reminder that everything becomes relative at some point. Therefore, it is imperative to anchor oneself in long-lasting achievements and seek ways to change the industry.
The Importance of Leaving a Legacy
Building a legacy is a greater purpose than just making money. As a marketing specialist, you have the opportunity to craft a message that resonates with people and make a positive impact on their lives. By doing so, you can leave a lasting impression that extends beyond your time as a marketer. This is especially relevant in today's age, where consumers are becoming increasingly mindful of companies' social and environmental responsibilities. Therefore, it is essential to prioritize long-term success over short-term gains to create a better future for yourself and others.
The Impact on Affiliate Marketing Industry
The affiliate marketing industry has undergone significant changes as a result of the shift in consumer preferences towards more socially and environmentally responsible companies. Marketing specialists need to adapt to these changes to ensure continued success. Strategies such as influencer marketing, leveraging social media platforms, and offering consumers personalized experiences can help marketers stand out in a crowded market. Ultimately, the key to success in affiliate marketing is to focus on building trust and fostering long-term relationships with consumers.