Content Writing Tutorial for Beginners | Digital Vidya02:27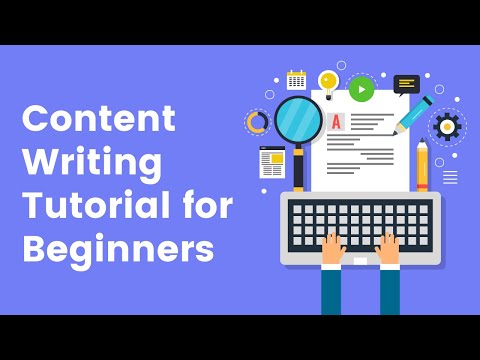 Digital Vidya
Topics
Role of content writers
Importance of research
Grammar and keywords in content writing
Video summary
The video talks about the importance of content writers and their role in writing scripts, copies and product descriptions for various forms of media. It emphasizes on the need for good research, understanding target audience, using proper grammar, knowing keywords and creating effective subheadings in content writing. The video also suggests starting with personal blogs to become a market-ready content writer and improving writing skills through reading.
Dig Deeper
Introduction

Content writing is a vital component when it comes to any form of digital marketing. From social media to ad campaigns, every piece of content has its foundation in a written script or copy. This is where content writers come in - individuals who have a prolific knowledge of their niche and can create engaging and persuasive content.

Qualities of a Successful Content Writer

To become a successful content writer, one does not necessarily need to possess a specific degree or educational background. However, good grammar, the ability to conduct deep research and a basic understanding of SEO are some basics required to step up the ladder.

Steps to Creating Successful Content

To create successful content, one must first conduct comprehensive research on their topic. Secondly, identify the aim of the written piece, whether it's to sell, drive traffic or obtain subscriptions, as this will guide the writing tone. Thirdly, it's crucial to understand the target audience and write content suitable for them. Fourthly, knowing the right keywords is vital as they help optimize the content for search engines. Finally, a crucial step is editing and revising the written content to ensure accuracy and coherence.

The Impact on the Affiliate Marketing Industry

In affiliate marketing, the content plays a crucial role in promoting products and services. If done excellently, the written content can generate significant traffic, sales and even increase subscriptions. As such, having a qualified content writer helps companies navigate the complexities of the affiliate marketing industry, leading to more impressive results.

Conclusion

In conclusion, content writing is an essential part of any digital marketing strategy. To be successful, it's imperative to embark on deep research, understand the target audience, have a good grasp of grammar, understand the importance of keywords and editing, and have a clear objective. Lastly, the impact of content writing on the affiliate marketing industry cannot be understated, and it's crucial to hire qualified content writers for optimum results.