How To Earn Money From The Telegram? Fast Methods | Travelpayouts02:14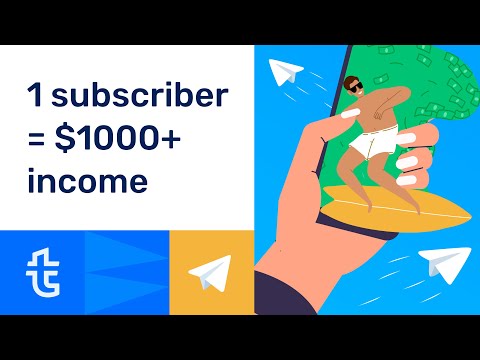 Travelpayouts
Topics
Monetization on Telegram
Affiliate programs and networks
Travel products and services
Video summary
Telegram is a messenger that allows you to make money online. You can sell ads or paid posts on your channel with the income depending on the channel's topic. Unique information can be shared in a private channel and a fee charged for joining. Telegram can also be used as a traffic source for your own website and to promote your products or services. Affiliate programs can be joined to earn commissions when subscribers make a purchase. Travel products and services are a great choice for almost any audience with over 80 travel affiliate programs available to join for free.
Dig Deeper
Monetizing with Telegram
Telegram is considered one of the best messengers for making money online. There are various ways to monetize your telegram channel, such as selling advertisements or paid posts. The more audience members you have, the higher your income will be.
Topic-Specific Income
The income you can make through telegram also depends on the topic of your channel. Finance, health, or travel channels tend to bring in more revenue than channels about movies or other entertainment forms, for instance.
Charging for Unique and Valuable Information
If you share unique and valuable information, you can create a private channel and charge a fee for joining. Prices depend on the value of the provided information and can exceed even one thousand dollars.
Using Telegram as a Traffic Source
A telegram channel can be used as a traffic source for your own website. When you turn channel subscribers into website readers, you will make extra income from website views for contextual ads. Alternatively, you can use your channel to sell and promote your own products or services. Subscribers can directly contact you on telegram to make an order, or you can drive traffic to your marketplace.
Affiliate Programs and Networks
Joining affiliate programs or networks such as CJ, Awin, Travel Payouts, or others can help you earn commissions when some of your subscribers make a purchase on the advertiser's websites. This monetization model is called cost per action (CPA) and is one of the most profitable ways to make money on telegram channels. You can choose any products or services according to your audience's interests.
Travel Affiliate Programs
Travel products and services are a great choice for monetization not only for travel-related channels but for any audience since almost every person travels. Joining the Travel Payouts affiliate network is free, and they offer over 80 travel affiliate programs to choose from.
Overall, the impact of Telegram on affiliate marketing industry is significant. It provides easy access to a large audience, and various monetization models can help generate revenue in different ways.