What is the micro conversion?
Micro conversions are actions (or sets of actions) your website visitors take that indicate they are likely to convert. Ultimately, macro conversions are what a website hopes to achieve, whereas micro conversions are the smaller steps that lead to those big goals. When it comes to eCommerce businesses, a macro conversion is the actual purchase of a product. However, very few website visitors would purchase a product during their initial visit. Such actions as browsing a product's page or adding a product to a shopping cart can be considered micro conversions as they may eventually result in actual conversions.
Marketers typically track micro conversions for a number of reasons:
Micro conversions can provide you with more insight into how your visitors are engaging with your website than you could find from tracking macro conversions alone.
It helps marketers spot weak points in their sales or marketing funnels where website visitors drop off and fail to make it through to the primary goal (conversion).
Optimizing for micro conversions can help ensure a more positive user experience, better customer journey and ultimately lead to higher conversion rates.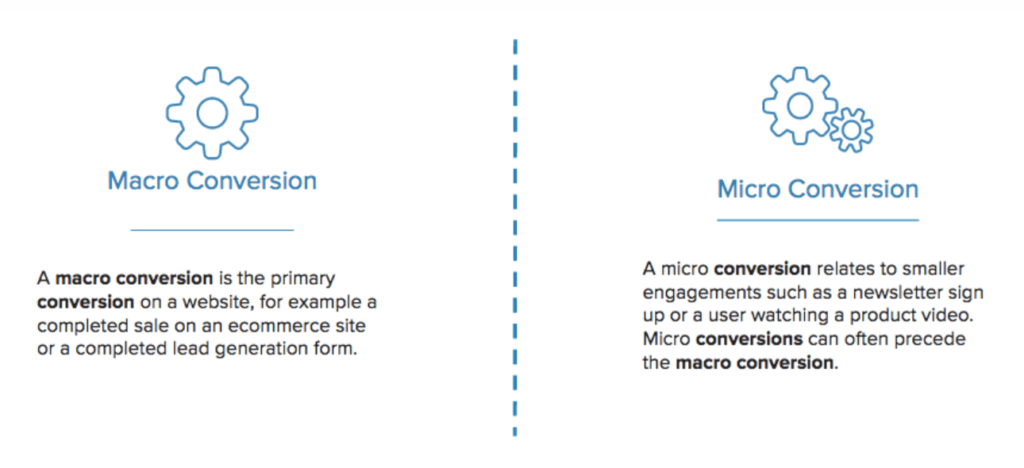 Examples of micro conversions
The basic example of a micro conversion is a small action that might feel insignificant to a user, but can eventually increase their likelihood to convert. In general, micro conversions can be classified into two types:
Process milestones: these are micro conversions that lead visitors to completing a macro conversion.
Secondary actions: these are desirable actions that may not directly result in conversions, but indicate potential future macro conversions.
The examples of both process milestones and secondary actions are the following:
Email newsletter sign-ups
Subscribing to RSS feed or updates
Creating an account on your website
Signing up for a trial
Beginning to fill out a form
Downloading an eBook, a Whitepaper, a case study
Watching a video, viewing a presentation
Browsing a certain number of pages on your website
Executing a product search, clicking on a search result
Browsing a certain number of products
Adding products to wishlist/ shopping cart
Leaving comments on your blog posts
Sharing content or mentioning your brand on social media
Identification of the right micro conversion goals for your website using Google Analytics
In order to define the right micro conversion goals for your website, you need to identify your main conversion funnels, i.e., the series of user actions that bring users closer to macro conversions that reflect your company's business objectives.
E.g., for eCommerce businesses, a purchase confirmation would be a common macro conversion goal that corresponds to the objective of increasing sales for Product X. Once you've defined your macro conversion goal (that should be trackable in Google Analytics), select a couple of corresponding micro conversion goals that lead to that macro conversion. Those could be clicking on the 'Shop now' button, adding a product to a shopping cart, etc. Thus, the main conversion funnel for most eCommerce business would look something like this:

Home Page > Clicking 'Shop Now' > Browsing the products page > Clicking on the product X> Browsing the product X page > adding the product X to a shopping cart > clicking 'Checkout' > Checkout process > Purchase confirmation
You can then validate your conversion funnel by reviewing the behavior flow report in Google Analytics (Behavior > Behavior Flow) to see how your visitors are actually flowing through your website. On-site user surveys can also help verify your best sequence of micro conversions.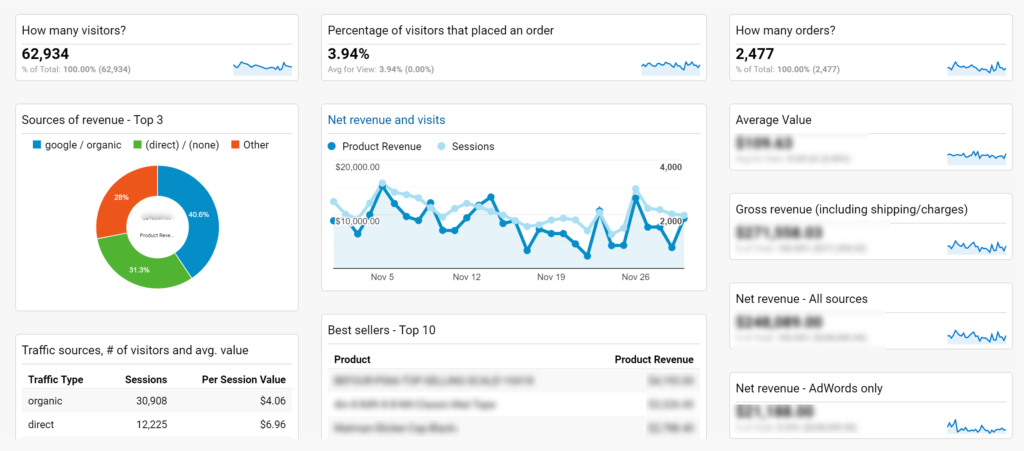 Tracking of the micro conversions in Google Analytics
Micro conversions can be tracked by using various analytics platforms. The most common one is Google Analytics. It allows you to log micro conversions both as events and as goals. You can set up to 20 goals in Google Analytics that enables you to track micro conversions from the moment a potential customer lands on your website up until they convert into a paying customer. GA offers 4 different types of goals you can set up (you can find them in Admin > View > Goals > New Goal button):
Destination goals: a user visits a certain page
Duration goals: a visitor spends a specific amount of time on the page
Pages per session goals: a user views a specific number of pages in a given session
Event goals: an event triggered by a user's action
You can also track micro conversions as events using Google Tag Manager. Events are simply user actions such as button clicks, newsletter sign ups, file downloads, video plays, etc. Google Tag Manager helps you define the events you'd like to track, however you still need Google Analytics to view and analyze the data.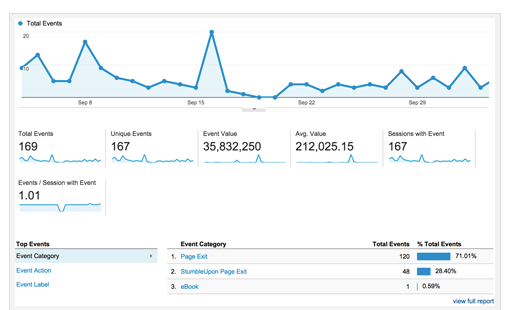 How to calculate micro conversion rate
Micro conversion rates are calculated in the same way as macro conversion rates. In order to get your conversion rate percentage, you need to divide the total number of conversions in a given time period by the total number of sessions or unique visitors or leads (based on what exactly you've defined as your conversion event) and multiply it by 100. The formula can be applied to both macro and micro conversions:
Conversion rate = Total number of conversions / Total number of sessions or unique visitors or leads * 100
As an eCommerce business, you may want to track micro conversions for each step of your conversion funnel to find out where users drop off. E.g., to calculate the micro conversion rate for checkout abandonment (cart abandonment rate), you would divide the number of completed purchases by the number of shopping carts created by users and then multiply it by 100. Thus, if 200 users purchased your products out of 1000 shopping carts created, your cart abandonment rate is 20% (200/1000 = 0,2*100 = 20%). High abandonment rate indicates there may be certain pain points in your checkout process.
Frequently Asked Questions
Why are micro conversions important?

Micro conversions are important because they are small actions that a user takes on your website that indicate interest in your product or service. These small actions can be anything from subscribing to a newsletter to adding an item to their cart. 

How can I track micro conversions?

Some tips on how to track micro conversions include using data analytics tools to track user engagement and conversion rates, and setting up conversion tracking pixels on your website.