Among the many ways to earn passive income, affiliate marketing has been one of the most popular for marketers and freelancers for years. It's a multi-billion dollar industry, and because of its popularity, there are various tools and methods to make affiliate marketing easier for both businesses and marketers.
Affiliate marketing software is the ideal tool for managing how your employees work, gaining insights into their performance, awarding commissions, and much more. Let's find out how affiliate software works.
Keeping all of your affiliates in one place
Imagine having information about all of your affiliate marketing partners scattered around various spreadsheets and emails. Finding out who's responsible for a new customer and paying them based on this kind of setup would be a complete nuisance.
Affiliate software helps you categorize and sort all of your affiliate partners. In one dashboard, you can see who works for you as an affiliate marketer, how much they earned for you, how long they've been working for you, and more.
Moreover, affiliate software enables you to provide your partners with unique affiliate links and materials. Unique affiliate links will allow you to track the number of customers each affiliate has brought in and make payouts easier.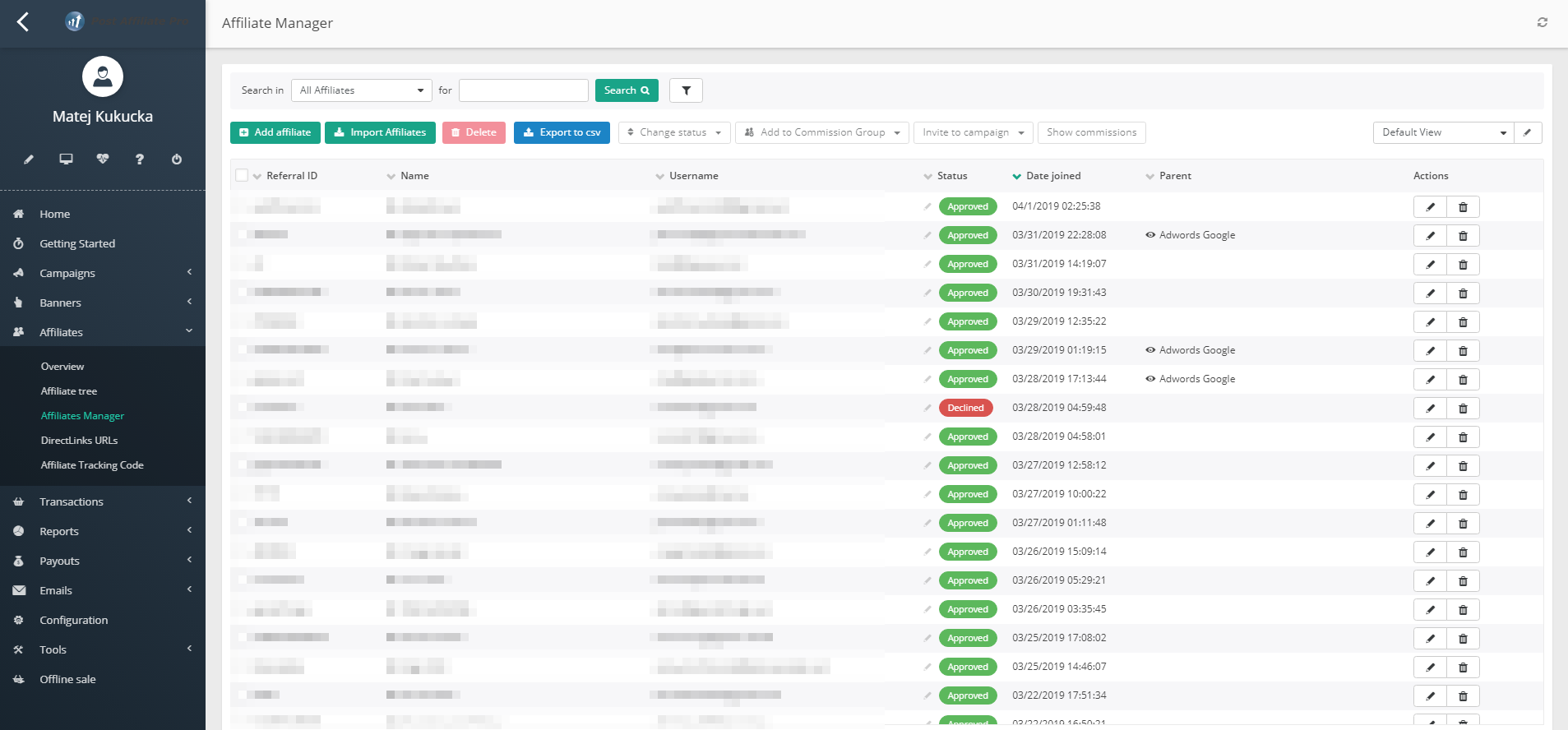 Automating payments
If you want your affiliate marketing program to stand out, you need to ensure that your affiliate partners are paid fairly and on time. Tracking payments manually is impossible, primarily if you work with many partners.
Affiliate software allows you to automate payments. It will automatically calculate the commission percentage for each new sale and assign it to the correct affiliate. You can set up your software to make payments based on different commissions, such as one-time, recurring, or other.
Moreover, affiliate marketing software can automatically make payments on your behalf. A happy affiliate gets paid in full and on time, so this feature is worth its weight in gold.
Managing your commissions
No two businesses are alike, and no two affiliate programs are alike either. As you may know, there are different types of commission structures that affiliate programs can have in place. Every decent piece of affiliate software will accommodate your preferred kind of commission.
For example, PostAffiliatePro allows you to choose between action, lifetime, multi-tier, recurring, and other commission types.
If you're not happy with having just one preferred payment method, you can use your affiliate software to set up commission groups. For example, you can reward your best partners by offering them a special commission package that's unavailable to others.
You can go one step further beyond making regular payments too. Using affiliate software, you can also give out performance rewards to the very best affiliates in a different way, financial or non-monetary.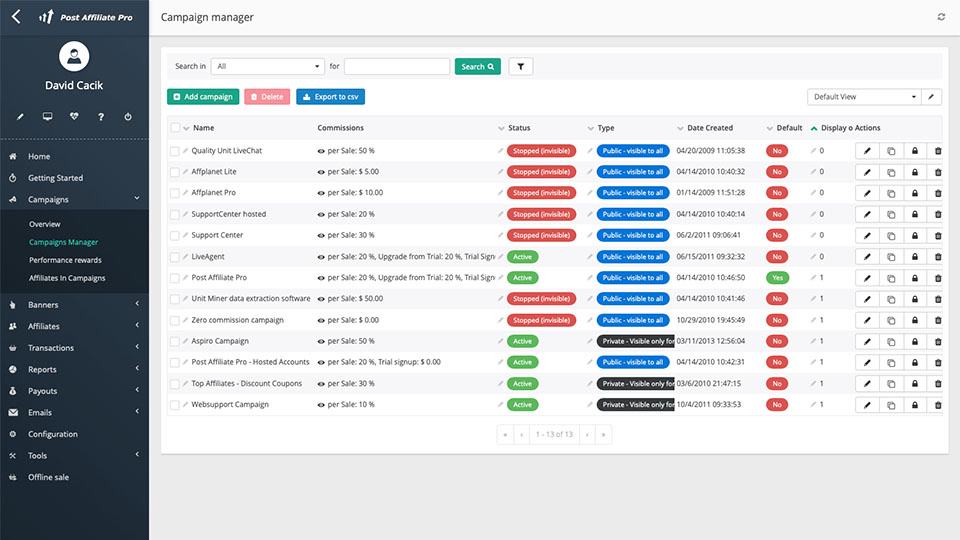 Tracking affiliates and their work in different ways
To be fair to your affiliates and protect yourself from those who may want to scam you, you need to use various tracking methods. Good affiliate software lets you track performance and let you know exactly which user brought in which sale so that you can protect both yourself and your partners.
Reliable affiliate software will let you track new conversions using:
Browser cookies (first- and third-party)
Flash cookies
IP addresses
HTML5 cookies
You can even use additional methods such as impression, action, or lifetime commission tracking.
Doing all of this would be a massive, if not an impossible, job without using affiliate software.
For multi-level marketing, you want to keep track of direct sales made by people referred to the program. In other words, you want a birds-eye view of the entire tree of affiliates. Good software will let you do that too, and with Post Affiliate Pro, you can do so thanks to its Forced Matrix feature.
The success of your affiliate program will largely depend on the materials your partners have available for use. The more they have, the easier it will be to promote your product to their audience.
Any good affiliate marketing software will let you share these materials in its app with your partners. Such materials include:
Banners
Promotional codes
Discount coupons
PDFs
Site replicators (a Smartlook feature)
And more
Partners use the affiliate software to find promotional materials instead of creating them independently. This way, you will save their time and allow them to sell your products and services more efficiently.
Creating detailed reports
You can't improve what you don't measure. Any good piece of affiliate software will allow you to monitor your program's success by providing you with real data insights.
For example, you can look at a complete audit log to see what your campaign managers have been up to and your campaign's overall success. Metrics you can track include the top-performing affiliates, best promotional materials, and most successful campaigns.
You can go into a map report to see how your program is doing geographically and whether some areas of the world are underperforming or doing well.
Overall, you can have all of your crucial program information at the tips of your fingers, ready to access at any time.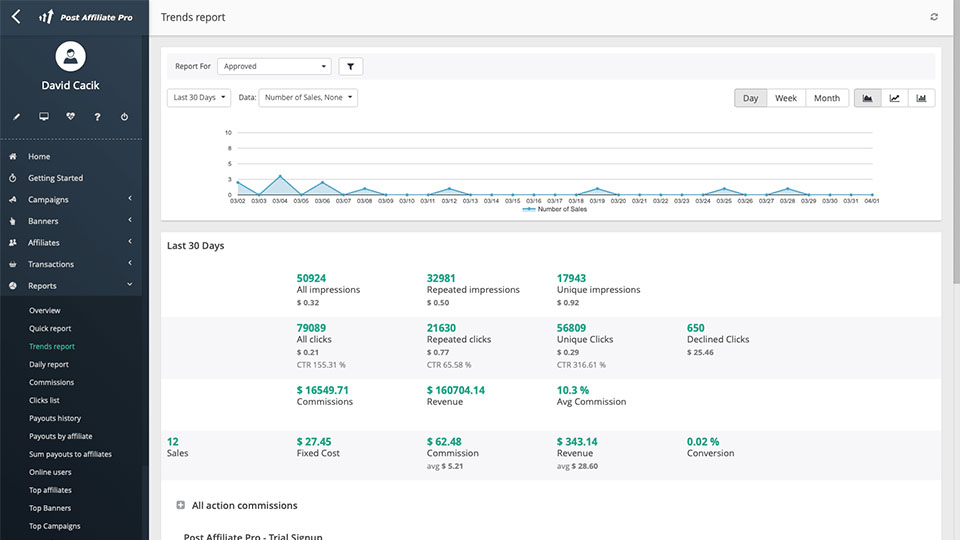 Conclusion
No matter how big or small your affiliate marketing program is, affiliate software helps you manage it properly from scratch. A good affiliate software solution is a must-have for any company running an affiliate marketing program. It'll help you take care of your affiliates, monitor your progress, pay your partners, hand out promotional materials, and much more.